Sisterhood of Nacreous Scales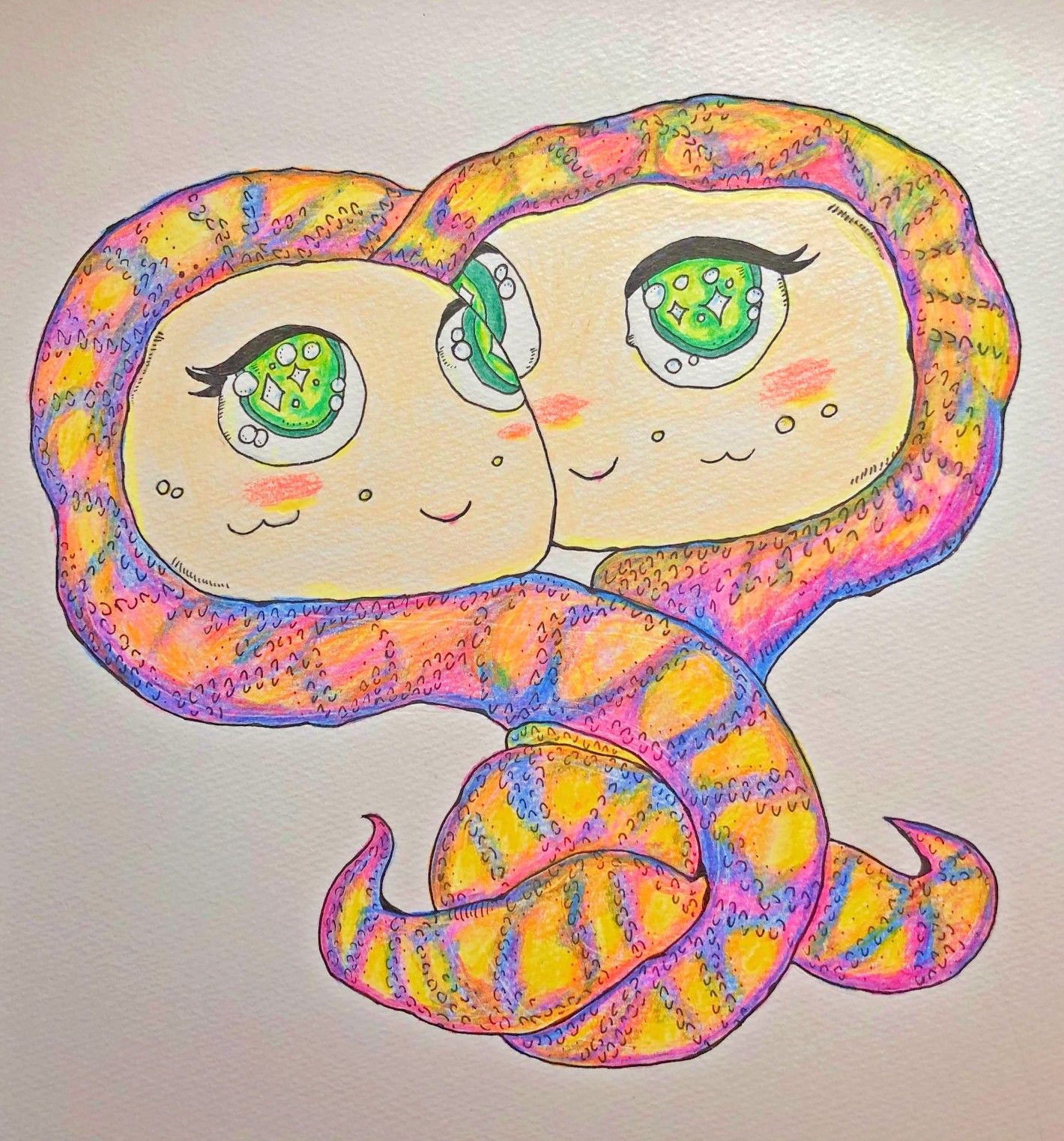 Part one:
My snake sister wept into a nebula,
It had unending stars that ended up at a Pearl Mother.
Pregnant as a bloated blueberry.

Me and my snake sister were holding hands in the womb.
The next moment she was gone.
Uninvited from the party of Earth.
I was dropped down a hole, became a curved equinox.
I spoke to dust for her.
Humiliated, trying to prove something.
As I orbited, waiting for her, everything was lost.
This is how it was chasing sisterhood.
This wound is a jagged gash, a canyon.
Sister? Sister?
Melissae and Wasp Queen.
I hoped for a miracle, she would notice me when we were atoms on the honeyed soil.
---
Earth taught me of venom,
Squirting out from fangs,
There's no where to turn and she made sure you had nothing to hold onto.
I am falling into the Pearl Mother and Father.
They put us here together. At war for love.
I call for Mother everyday,
She took me to the place where you cannot say no.
Maybe you are there too?
There is a flood of wet dreams seeping into my veins,
And, I can't say no.
Father restrains me,
The dark daddy wants us to birth each-other,
Again and again and again,
Russian Doll.
Goddess opens her legs opposite me.
Glaring
Taste this poison.
But the riddle is:
Will I pray, surrender and look at her?
---
Part Two:
A Pearl dropped out of me, 100,000 feet down.
Crashed into the ocean floor,
Downward escalator of sky scrapers.
My magnetism is crushed by your gravity,
I was a mother birthing my strange self.
At the very bottom there is a single candle,
Lit glittering in the abysmal black,
I am smiling.
You were born there,
A gush of red ink clusters around the pearl under the water.
This water that moves from black, to purple, to blue,
Back to aquamarine, silver, and sometimes orange.
A sun ray swirls around like a baby finger twirling a puddle.
We were girls.
What is that long effervescent pink tube?
Spinning like a DNA bubble into my organs.
We seem to be connected forever.
I wish I could tell you otherwise,
I'm not sure you'd like to hear it.
As our orbit completes
We are tentacled wolves,
Desperate for slime-touch and howls.
We are luscious rotten fruits,
Turned into melding pickles.
I was obsessed with your inky opacity,
And you with my eye-burning glisten.
It seems that together we are a satellite that covers the earth,
Each a diamond screen reflecting its own slither.
Just that cosmic snake.
I am giggling and every sound rises to the surface of the ocean and pops.
There a cargo ship dismantles,
Into a wave the size of a country.
An octopus clings onto the very bottom tip of the boat,
A genius hitch-hiker, rejoicing.
Published by Rein Lo 23/07/23