The Dragon's Tongue
'33 Signs I Might Be Crazy'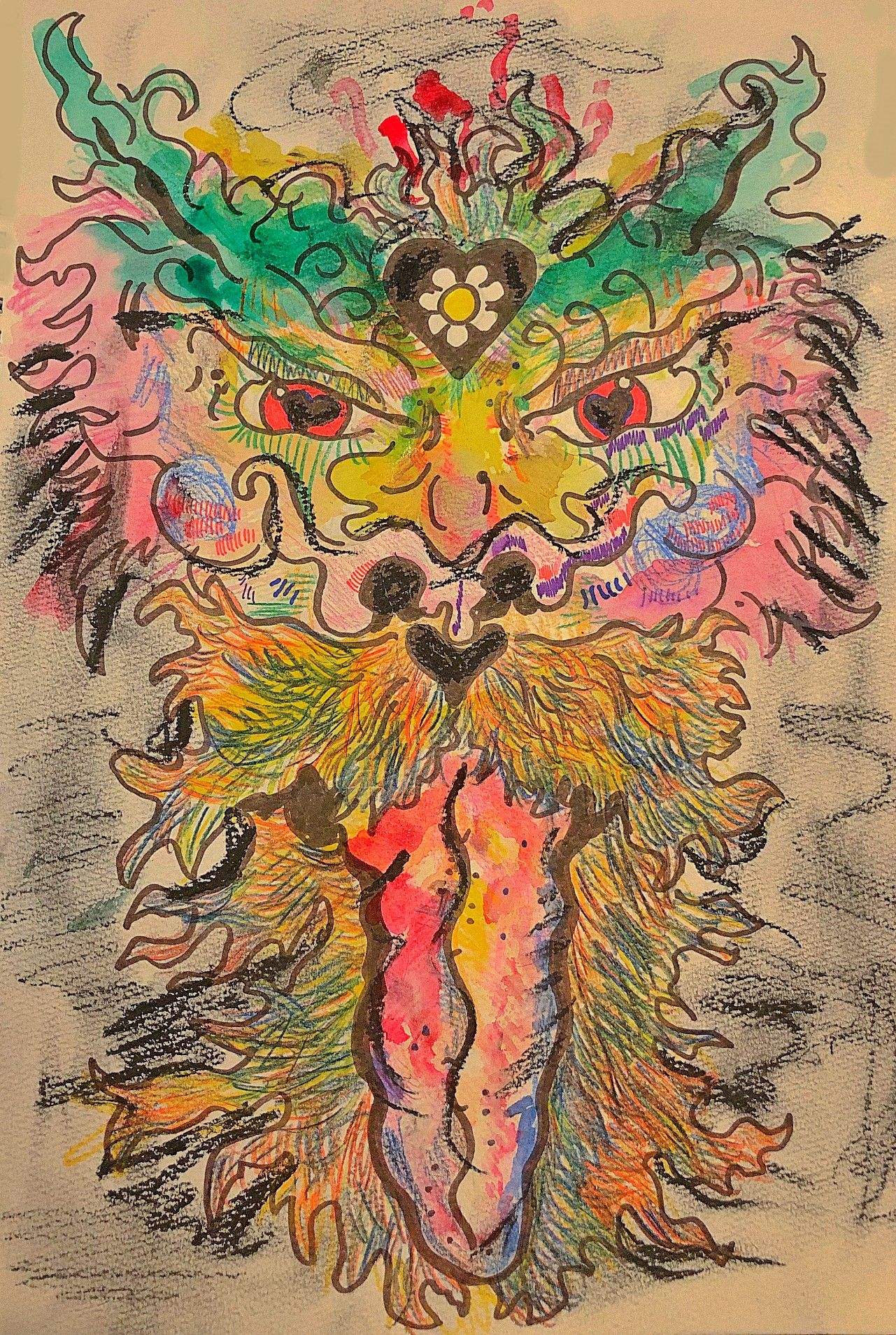 'The Dragon's Tongue'
Cuisine in formation
Peach-toned labia plates
White milk trickling.
Thigh, cartilage, liver and arsehole
Un-shamed beast loves
toxic whore
Big.
Flying high as a fallen breath
Afterwards: bejewelled penetration
Digging for dirt nourishment
Feet like claws full of blood
Warmed by a fire puff exhaling city heat.
---
Lick blood from scratches, 11
Signs I might be wild
33 Signs I might be crazy
She's jealous, I'm jealous
Tastes delicious
We never speak
Cult-like, oh it seems I'm always around.
---
Guts are on a stick.
Eyes watery and round like Dumbo.
Are there one thousand colours raiding my tongue cells?
Like barbiturate atoms of nature
'Aqua' 'Fortis', dissolving all but gold
Mouth roof was wide open melting the sky into me
Slate teeth gripping on bitterly in that cultured winter
Humans barbaric, clambering around
Alchemical labourer with a chaos symbol tattoo
Pulling and tugging, with my dear, terrible Papa.
Mother, what do I call you?
Do you send me voice-notes
Of sweet children
Telling me to come to my home country?
---
Ten thousand colours to taste, this time
Froth, foaming green at the bottom of demon mountain
I want to bow, now.
My soul feels as heavy as this floating forest
Purple, pink, yellow, gold, silver, red
A flurry of scales seethes through my blinking eyes
Blinking lights in a hotel room, warm aura of Home City
I can now call Mine.
No-one begged for it like I could.
Pluto moving.
Solifaction, digesting
You think I can't keep up?
I'm turned on competing with you and
Becoming gold.
My Gates are Vermillion,
Much like a clay I remember
A hot sun circle ritual with naked skin and smoke
Pretty ones are tied up together by rope for days
Just like you and me but it's centuries.
I cranked up the size of my gaping pussy
Using a nutcracker
Hey wait up, chotto matte ne
more food is on the way.
---
~24/06/23 ~ Published by Rein Lo~